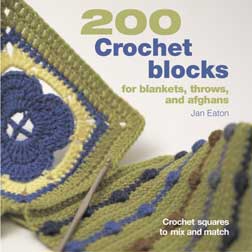 Good book!

Oh yeah, I'm not just a knitter. A couple times a month I go to my nearest independent bookstore and look at their knitting and crocheting books. Recently I got
200 Crochet Blocks for Blankets, Throws, and Afghans: Crochet Squares to Mix and Match
by Jan Eaton. I like the whole concept of the book, which involves developing blocks of the same size so that crocheters can pick patterns for the blocks and develop their own combinations. The one way in which the book just totally falls down for me is the color choices for the illustrative photos. I could rant for quite awhile about it and make wretching noises, but I'll say merely that they are horrid. On the whole, however, the book is a very positive experience for me. I'd certainly recommend it as a reference work for patterns if you don't already have something like that to draw on for your crochet projects. Not only does it have the classic granny square patterns but lots of others that are useful beyond the "block" context.
Here's the whole citation:
200 Crochet Blocks for Blankets, Throws, and Afghans: Crochet Squares to Mix and Match
by Jan Eaton; Interweave Press ISBN : 1-931499-68-3; Sep 2004 Price: $24.95